---
Pope says Mass translations promote unity and understanding of faith
29. 6. 2014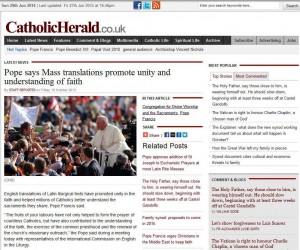 Pope says Mass translations promote unity and understanding of faith
English translations of Latin liturgical texts have promoted unity in the faith and helped millions of Catholics better understand the sacraments they share, Pope Francis said.
"The fruits of your labours have not only helped to form the prayer of countless Catholics, but have also contributed to the understanding of the faith, the exercise of the common priesthood and the renewal of the church's missionary outreach," the Pope said during a meeting today with representatives of the International Commission on English in the Liturgy.
the complete text is here
http://www.catholicherald.co.uk/news/2013/10/18/pope-says-mass-translations-promote-unity-and-understanding-of-faith/
SEE ALSO THIS ARTICLE
Knowing more about the new Mass translation
On the May 1 holiday, while many communities took the chance to have an outing or to hang around with friends, about 400 people belonging to choirs from 30 parishes in Hong Kong came together for a whole day seminar-workshop on the liturgy at the new campus of Sing Yin Secondary School near Choi Hung Estate.
The Chaplaincy for Filipinos organises a similar day each year on the first day of May, particularly for the benefit of Filipinos who serve in the different ministries in parishes.
This year, the topic was on the New Mass Settings, as described in the revised English translation of the Roman Missal...etc.
the article is here
Komentáře
Přehled komentářů