---
Don Sparling, English or Czenglish PLUS
28. 6. 2014
Two interesting books are ready to download in the internet:
Don Sparling - English or Czenglish, 1989
http://www.gy.svitavy.cz/download/88-english-or-czenglish.pdf

http://uloz.to/xkEGPvW/don-sparling-english-or-czenglish-pdf
Jak se vyhnout čechismům v angličtině?
Když se někdo učí cizí jazyk, v skrytu duše často věří, že už ho ovládá docela obstojně, a přece ho opětovně sužují pochybnosti: Nedělám chyby, o kterých nevím? Jsou moje znalosti vůbec k něčemu? Jestlipak by mně rodilý mluvčí rozuměl? Co když mluvím nějakým podivným jazykem s příměsí češtiny?
Cílem této příručky je pomoci všem, kteří chtějí umět English a vyvarovat se Czenglish. Snaží se o to upozorněním na typické čechismy, vysvětlením, proč jsou nesprávné a radami, jak se jim vyhnout.
English or Czenglish? Plus!

modern reference textbook



http://www.maths.ed.ac.uk/~jmarecek/czenglish/modern-textbook.pdf

http://www.scribd.com/doc/72486313/czenglish
Twentieth Anniversary Edition,

2009

?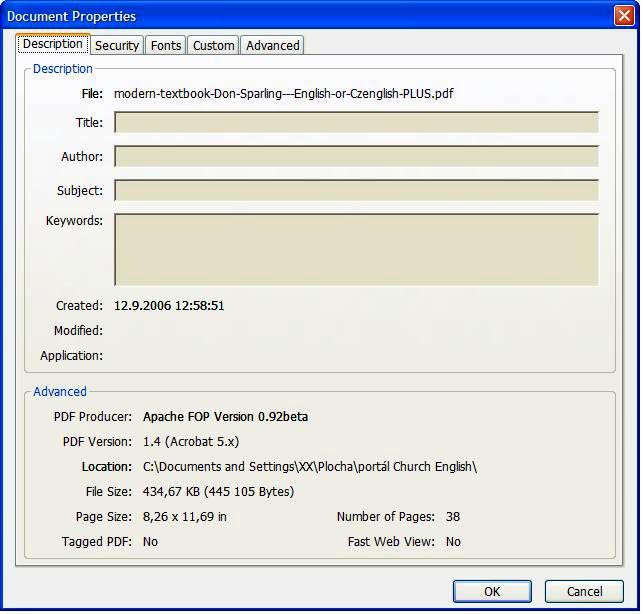 An Overview
Don Sparling's English or Czenglish has been the most popular English Usage textbook in the Czech Republic for almost 20 years now. In its first edition, it was a collection of sentences incorrectly translated from Czech to English by first-year English majors, together with comments on the nature of their mistakes. Jakub Marecek has been working under the direction of Jarmila Fictumova on:
enriching the text with new example sentences, carefully chosen from corpora
supporting the claims made in the book with corpus evidence and make them more accurate, if needed
setting the textbook anew in type in several editions with varying levels of detail
reworking one edition into a textbook proper with entries organized into units by topic, accompanied by exercises and interest boxes.
A Preview
For a preview, see our draft of entries 1-75:
A very preliminary version of the complete book is also available:
Should you have any questions or comments, do not hesitate to contact Jakub <jakub at marecek dot cz>, Dr. Fictumova <jarmila at fictumova dot cz> or Dr. Sparling <sparling at czs dot muni dot cz>.
Go back to Jakub's homepage Jakub Marecek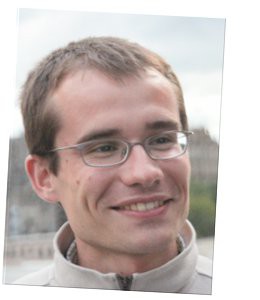 tištěnou knihu je možno zakoupit v antikvariátu
http://muj-antikvariat.cz/kniha/english-or-czenglish-sparling-don-1990
http://antikvariat-andel.cz/kniha/sparling-don-english-or-czenglish-1990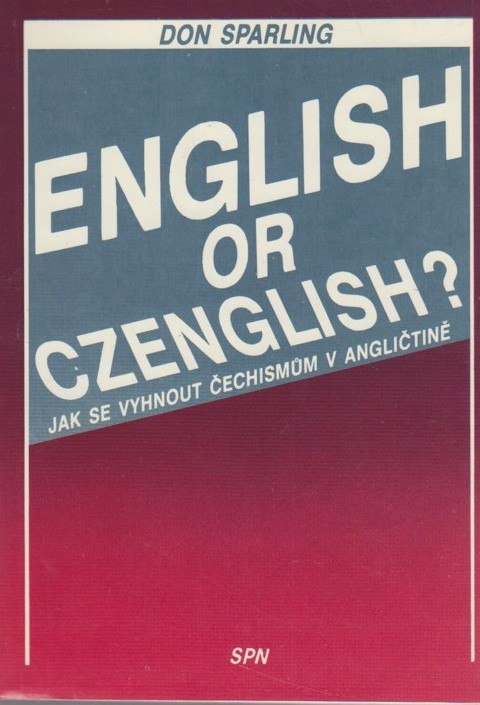 at Wikipedia
http://cs.wikipedia.org/wiki/Czenglish
Czenglish (spojení anglických slov Czech a English) je anglický termín, jímž Don Sparling označil špatnou angličtinu, kterou používají někteří Češi. Charakteristické pro tzv. Czenglish jsou bohemismy při překladu terminologie nebo ve větné skladbě (pořadí slov ve větě, předložkové vazby atd.).
Češi rozumí Czenglish zpravidla stejně dobře jako správné angličtině. Anglicky hovořícím lidem, kteří neznají dobře češtinu nebo jiný podobný jazyk, však někdy může trvat déle, než pochopí správný význam, a někdy může věta v angličtině nabýt zcela jiného významu, než jaký byl českým mluvčím zamýšlen, což může vést ke zmatení, nedorozumění nebo trapné situaci.
Czenglish není lingvisty považován za ustálený slang, nářečí ani jazyk, označuje spíše náhodný výskyt různých typů chyb. Z lingvistického hlediska má větší význam poangličtěná forma češtiny, která však zatím obecně vžité jednotné označení nemá.
Související články
Externí odkazy
Komentáře
Přehled komentářů